Father's Rights Attorney in Pasadena
Helping Father's Safeguard Their Rights in CA
As a father, it is important to remember that you have parental rights, and those rights deserve to be protected. Legal separation, divorce, and custody battles can leave fathers in the dark, and many people wrongly believe that custody will automatically be given to the mother. However, this is not necessarily the case, and our Pasadena father's rights lawyers can help.
At the Law Offices of Christopher L. Hoglin, P.C., we will take the time to get to know you and your situation, discuss what your rights as a parent are, and help you achieve a resolution that will not devastate your role in your child's life.
Contact us today and schedule a free initial consultation for more information on how our team can help protect your fathers' rights.
What Rights Does an Unmarried Father Have in California?
Without establishing paternity, an unmarried father does not have the right to make important decisions for his child, such as healthcare and education. That would belong to the mother. In the past, courts were reluctant to give any rights to unmarried fathers, but as time has passed, they are seeing the importance of the bond a child may have with their father. For this reason, they have highly encouraged any father wanting custody or visitation to establish paternity as soon as possible. This can be done by:
Both parents signing a Declaration of Paternity. If this is signed when the child is born, both names go on the birth certificate.
The father files a petition to the courts for a paternity test
Results Driven Representation When You Need It Most
There are a lot of fathers who want to remain in their children's lives, and at the Law Offices of Christopher L. Hoglin, P.C., we are dedicated to working tirelessly to make sure your rights are fully protected. Having legal representation on your side can give you the edge in court cases, as well as provide peace of mind that you are being protected during out-of-trial settlements.
Our Pasadena father's rights lawyers will take the time to learn about you, your situation, and your family, and help with the following:
Obtain favorable custody agreements, including helping you receive physical or legal custody of the children involved
Work to defend you against accusations of domestic violence
File necessary restraining orders
Obtain paternity tests to verify that these are your biological children
Help you obtain child support from the children's mother
Represent you in court and at all custody, support, and divorce proceedings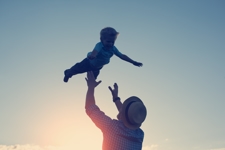 The laws in California will allow both parents the opportunity to fight for custody and visitation. Having both mother and father figures in the child's life has shown to be beneficial to a child's upbringing. This means fathers can assert their right to maintain their relationship with their child, even if they were not married to the mother at the child's birth.
Dedicated Advocacy for Your Fathers' Rights
At the Law Offices of Christopher L. Hoglin, P.C., we are advocates for fathers and families throughout Pasadena, San Marino, San Gabriel Valley, and the rest of the Greater Los Angeles area. We know that having your children in your life is important, and with the assistance of our Pasadena father's rights attorneys, we may be able to ensure that you stay as an integral part of their lives.
Call us today at (626) 653-4075 for a free consultation with our father's rights attorney in CA
Our Testimonials
We Work Hard to Get the Results Needed for Our Clients
- Former Client

- Gus

- George
Results Driven

Spanish Speaking Services Available

Familiar with Local Judges & the Community

Free Case Evaluation